Breast Reconstruction in San Diego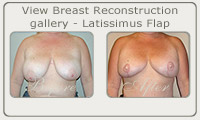 Reconstruction of a breast that has been removed due to cancer or another disease is the most rewarding type of breast surgery that Dr. Mark Mofid performs. This surgery requires a great deal of precision and artistry and a deep understanding of the ways that different approaches to breast reconstruction affect the final result. Please contact the offices of Dr. Mofid, serving Chula Vista, La Jolla, and all of San Diego. Breast reconstruction surgery can improve the lives of women who have lost breasts due to cancer or other diseases.
Implant-based Breast Reconstruction in San Diego
This type of breast reconstruction allows Dr. Mark Mofid to reconstruct the breast without moving tissue from any other site on the body. In implant-based breast reconstruction surgery, a tissue expander is used to increase the size of the reconstructed breast gradually. The tissue expander is placed in the body and saline is added to the breast over the course of several months via a magnetic port accessible through the skin with a needle. Once the tissue has expanded enough to create a new breast equal in size and shape to the surviving breast, the reconstruction is completed following placement of a permanent implant. The nipple and areola may be constructed from local tissue or a skin graft from the inner thigh. While this approach to breast reconstruction is not as invasive as the flap procedures, it does take more time because of the gradual tissue expansion process. Several visits to Dr. Mofid's office are necessary before the final results are achieved.
DIEP/Free TRAM Flap Breast Reconstruction in San Diego
A DIEP (Deep Inferior Epigastric Perforator Flap) or free TRAM (Transverse Rectus Abdominis Musculocutaneous) flap breast reconstruction involves the removal of tissue from the abdomen in order to form the new, reconstructed breast. This relocated tissue will provide blood vessels and muscle to support the new breast. The abdominal area that serves as the donor site for the new breast tissue recovers quite well as the female abdomen is designed to stretch to accommodate pregnancy. This procedure is performed using advanced microsurgical techniques that require the suturing of blood vessels under a microscope. Dr. Mark Mofid and the patient will determine together whether a conventional free TRAM flap or a free DIEP flap (no muscle included in the flap) is necessary for the restoration of a natural and balanced look to the chest. More information on how this treatment is tailored to individual patients is available at Dr. Mofid's office in La Jolla in San Diego. DIEP and free TRAM flap breast reconstruction is the ideal option for many women seeking breast reconstruction surgery, especially when the chest wall skin has been extensively damaged by post-operative radiation.
Latissimus Flap Breast Reconstruction in San Diego
In the latissimus technique, Dr. Mark Mofid moves tissue from the woman's back and relocates it to the breast. Generally, the amount of tissue that is removed is less than in TRAM flap breast reconstruction, making this approach preferable for some women with small or medium-sized breasts. This tissue is used on its own or to cover a breast implant chosen by the patient and Dr. Mofid to resemble the patient's surviving breast most accurately. Latissimus flap breast reconstruction has an advantage over implant-based breast reconstruction in that it is usually a one-step procedure that will not require many follow-up visits to Dr. Mofid's office.
Contact Dr. Mark Mofid for a Breast Reconstruction Consultation in San Diego
Dr. Mark Mofid provides several types of breast reconstruction options to accommodate all women at his practice serving La Jolla and all of San Diego. Breast reconstruction is a highly personal procedure requiring the customized care of a board-certified plastic and reconstructive surgeon. Women who have lost breasts due to cancer or another condition may schedule a consultation at Dr. Mark Mofid's office to learn more about which breast reconstruction procedures are suited to their unique needs.
Breast Reconstruction Articles