Male Pectoral Implants in San Diego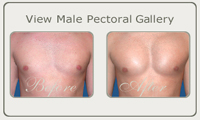 Have you thought about getting male pectoral implants? A strong, toned body is a sign of masculinity and strength. For some men, however, building the pectoral muscles can be extremely difficult.
Dr. Mark Mofid
offers male pectoral implants at his San Diego practice to enhance the male chest with a more muscular appearance.
What are Male Pectoral Implants?
Male pectoral implants are designed specifically for men and mimic well-developed pectoral muscles. Male pectoral implants are natural-looking and made of silicone. The implants are carefully and precisely placed in the chest to ensure your muscle function remains the same so that you can continue to exercise and perform your normal activities as usual. The implants should feel firm to the touch as they are not filled like breast implants used for breast augmentation.
Contact Dr. Mark Mofid's plastic surgery practice for more information about Male Pectoral Implants in San Diego and surrounding areas. Patients interested in cosmetic face, body, or breast surgery may also visit his La Jolla office for more information on financing or to learn more about the cost of his procedures.
More Information about Male Pectoral Implants – By Dr. Mofid
Male pectoral implants are performed to enhance the size and shape of the male chest. These procedures are typically performed using shaped silicone implants placed endoscopically through small incisions within the axilla or underarm. These surgeries typically take 1-1/2 hours to perform and are done under general anesthesia as outpatient procedures.
Am I a Good Candidate for the Procedure?
Good candidates for this procedure include men with chest wall asymmetries, minor pectus excavatum, and hypoplasia or other causes of either unilateral or bilateral chest hypoplasia. Good candidates for this procedure include men that would like to achieve the appearance of greater muscle pectoral bulk of their chest. The most common reasons that patients choose to have male pectoral implants performed include the inability to achieve the appearance of a sculpted chest despite efforts attained through exercise.
Recovering from Male Pectoral Implant Surgery
Swelling, bruising, discomfort, and some pain are to be expected during the recovery process. During a typical recovery following male pectoral implant surgery, moderate exercise is resumed 2 weeks following surgery and upper body exercises may be resumed approximately 6 weeks following surgery. Our team will provide you with detailed post-operative instructions to help you through the recovery process following your male pectoral implant surgery in San Diego.
Cost and Payment
The cost of your male pectoral implant surgery in San Diego and the payment options available to you will be discussed when you come in for your consultation. Our team can also go over the financing options available to you. You can apply for CareCredit® online to receive instant approval.
Schedule a Consultation
Contact San Diego Skin today to schedule a consultation with plastic surgeon Dr. Mark Mofid. Dr. Mofid can answer any questions you may have regarding the procedure and what to expect during your recovery so you are fully prepared for your male pectoral implant procedure in San Diego.