Facial Fat Grafting
Conveniently located in San Diego, CA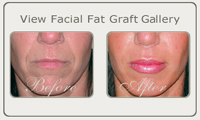 Under the care of Dr. Mark Mofid, patients can achieve a more youthful appearance with facial fat grafting. Using your own fat, Dr. Mofid can treat facial sagging and replace lost volume to reduce visible signs of aging. Dr. Mofid's dedication to patient safety and satisfaction has earned him recognition as a top provider of facial fat grafting in San Diego.
What Is Facial Fat Grafting?
Facial fat grafting is an extremely effective method for creating a more youthful facial appearance. In this procedure, the patient's own fat is extracted from the buttocks, abdomen, saddle bags, or some other area where it will not be missed. After preparing the fat, Dr. Mark Mofid then injects the extracted fat into areas of the face where fat has been lost in the aging process. Dr. Mofid uses this technique to improve the appearance of a long and gaunt face, an asymmetrical face, or sunken eyes or cheeks. Dr. Mofid listens carefully to each patient to understand his or her concerns fully and then applies facial fat grafting techniques to achieve the aesthetic results desired. Because the patient's own natural fat is used in facial fat grafting, there are no synthetic fillers used and the results can be more natural-looking. Frequently, patients of Dr. Mofid choose to combine this procedure with facelift surgery for complete anti-aging makeovers. Please visit if you would like to meet with Dr. Mark Mofid to discuss how Facial Fat Grafting in San Diego can benefit you and have a digital imaging session with his cosmetic coordinator. Patients interested in cosmetic face, body, or breast surgery may also visit his La Jolla office for more information on financing or to learn more about the cost of his procedures. Please apply for CareCredit® online to receive instant approval.
Am I an Ideal Candidate?
Men and women who are unhappy with the appearance of under-eye hollows, drooping in the cheeks, sunken temples, nasolabial folds, and lost volume in the jawline area can benefit from facial fat grafting. Candidates must have adequate excess fat for creating their fat injections, must have healthy skin elasticity, and must be able to safely undergo a liposuction procedure for fat harvesting.
Your Consultation
It is important to discuss your desired results and goals with Dr. Mofid during your consultation. A physical examination of your face and donor areas will be performed to confirm your compatibility with this facial rejuvenation treatment.
Your medical history will be reviewed, including current medications, underlying conditions, and past surgeries. Preoperative instructions will also be given during this time to prepare you for your treatment.
The Facial Fat Grafting Procedure
Anesthesia will be administered to eliminate discomfort during the procedure. The facial fat grafting treatment starts with harvesting fat from the donor areas, commonly the thighs or buttocks. The extracted fat is then purified. Next, Dr. Mofid will inject the fat into the target areas.
Facial Fat Grafting Recovery
Expect a week to ten days of downtime after a facial fat grafting procedure. Bruising and swelling will gradually dissipate as the healing process progresses. To manage pain, medications may be prescribed.
You will need to limit your activities as directed by Dr. Mofid. He will monitor your recovery and advise you when you can reintroduce moderate and high intensity activities.
Cost of Facial Fat Grafting
The cost of facial fat grafting differs from patient to patient due to Dr. Mofid's client-specific approach. The overall price of this facial rejuvenation treatment will reflect the number of treatment areas and the complexity of your procedure. Facility and anesthesia fees will apply as well.
Schedule Your Consultation
You can learn more about the benefits of facial fat grafting in San Diego by meeting with Dr. Mofid. Contact our office today to arrange your consultation.